Cheese custard creams
Charlotte Jarvis-Smith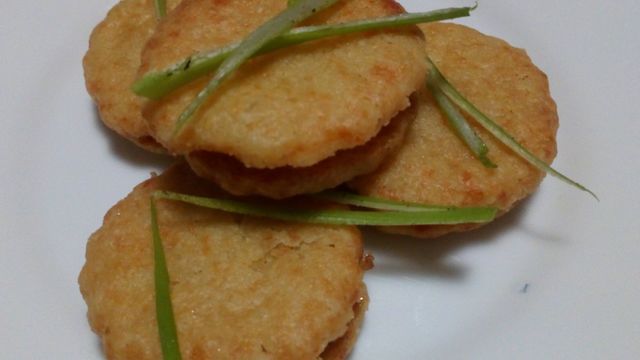 Charlotte Jarvis-Smith recreates a canape she enjoyed recently at Benedicts in Norwich.
'Last week I had one of the best meals of my entire life at Benedicts in Norwich – run by our enthusiastic regular columnist Mr Richard Bainbridge. We're talking 13 courses of pure and utter perfection here – and I'm picky! Hubby and I ploughed through North Sea cod with wild garlic and lemon puree, brown butter plaice with cornichon gel, Norfolk quail 'kiev', potato and truffle, pork with a crumble of crackling. I could go on and on. What has stuck in both of our minds though is the parade of snacks that arrived at the table ahead of our tasting menu banquet. There was a puffed rice cracker topped with salmon roe and shallots, with a warm sherry mousse. Homemade crisps dusted with cep and lemon powder came perched on moss inside a pine cone. And there was a plate of prawn cocktail tartlets and cheese biscuits filled with cheddar cream and apple. Wowsers. I mean, that was like a savoury custard cream with bells and whistles on. Crisp shortbready, cheesy biscuit. Creamy, soft, smooth, utterly cheesy filling. A touch of sweetness from the apple. And warmth and allium heat from a sprinkle of chives. One wasn't enough and I was inspired to make these at home – as well as Richard's rhubarb tart, which I'll be recreating in a couple of weeks. My biscuits are a little shorter than the ones served at Benedicts. They will quite literally melt in your mouth – so be careful when you fill them! Make sure you chill the dough before baking, otherwise it'll melt as soon as it hits the oven and the texture won't be right. And use the strongest cheddar you can – the kind that makes the roof of your mouth burn!'
Your support for our advertisers helps cover the cost of hosting, research, and maintenance of this site
---
Ingredients
For the biscuits
100 g unsalted butter
100 g plain flour
100 g vintage grated cheddar (or extra mature)
pinch of cayenne ground pepper
½ tsp mustard powder
---
For the filling
2 large eggs
1 tbsp plain flour
1 tsp cornflour
150 ml double cream
pinch of mustard powder
75 g strong grated cheddar
---
To garnish
handful of spring onions | finely chopped (or chives)
---
Method
Make the biscuit dough first
Pop all the biscuit ingredients in a food processor.

Blitz to combine. It will look like breadcrumbs to begin with but persevere until it lumps into a ball.

Once a dough has formed, wrap it in clingfilm and place in the fridge for 30 minutes.
---
To make the filling
Whisk together the yolks, flour and cornflour in a bowl.

Warm the cream in a saucepan until it only just starts to simmer then take off the heat and pour a quarter over the egg mix. Whisk it in.

Add a bit more cream and whisk it in to combine.

Now add the rest of the cream and whisk thoroughly.

Return to the pan with the mustard powder and strong cheddar and cook over a low to medium heat, whisking all the time until it is thick and spreadable – almost like a choux dough.

Place in a bowl and cover with clingfilm so it doesn't form a skin.
---
Cooking
Line two baking sheets.

On a floured surface roll your chilled biscuit dough out to 3mm thick.

Cut out into 4–5cm rounds (I used a fluted cutter).

Place on your sheets and bake for 10 minutes.

Remove to a wire cooling rack and carefully fill with the cheese cream mix once completely cold.

Garnish with the spring onions.
---
References
East Anglian Daily Times 🔗. Published: 11:03 21 March 2018 | Updated: 11:03 21 March 2018 | Updated: 5:17 PM October 9, 2020
---
Your support for our advertisers helps cover the cost of hosting, research, and maintenance of this site