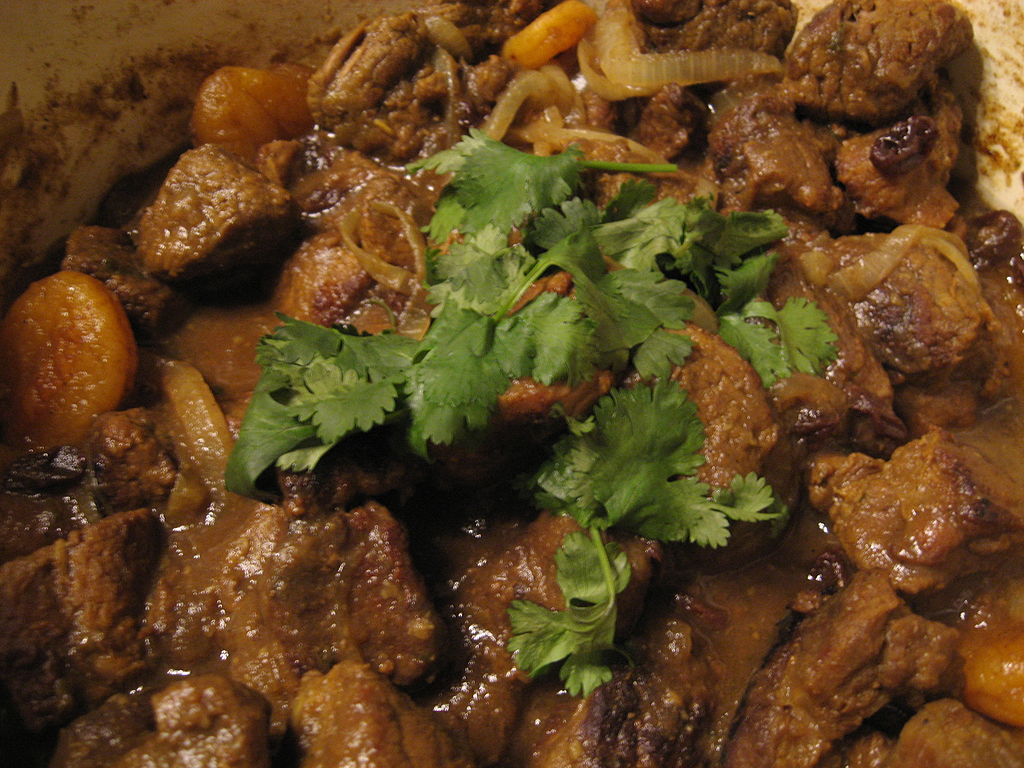 While looking for a tagine recipe that included preserved lemons I found mostly chicken tagines. Very good too, but I had lamb. This, then, is a composite, formed from bits and pieces of tagine recipes I have used before.
Your support for our advertisers helps cover the cost of hosting, research, and maintenance of this site
---
Ingredients
1 Kg lamb pieces
1 preserved lemon | cut into eighths
2 medium onions | finely chopped
4 cloves garlic | finely chopped
1 thumb ginger | finely chopped
2 tbsp mixed spices [eg 'Moroccan' ras el hanout or 'Turkish' lamb spice mix]
8 tbsp olive oil
1 tsp ground turmeric
1 pinch saffron
250 ml water (or light stock)
handful of mixed olives | stoned
handful of dried apricots | halved
handful of mixed dried fruits [eg sultanas, cranberries, raisins]
1 tbsp honey
1 × 400 g tin tomatoes | flesh only (strain and keep the juice)
1 tsp ground black pepper
1 tsp salt
1 handful chopped parsley
---
Method
Mix the lamb pieces, lemon, onion, garlic, ginger, and spices with half the oil and combine well.

Add the remaining half of the oil to a large casserole or tagine and fry the mixture to brown it a little.

Add the turmeric, saffron, and water, mix and cover, then cook in the oven at medium heat for about two hours.

Remove from oven and add the olives, apricots, fruits, honey, tomatoes, and pepper. Add some of the tomato juice if it's looking dry.

Mix well and taste before seasoning. The lamb should be tender but not quite falling apart yet.

Add any salt you feel needed, cover and cook for another hour.

When done, and the lamb melts in the mouth, stir in parsley and serve with couscous or rice.
---
Your support for our advertisers helps cover the cost of hosting, research, and maintenance of this site