Chicken tagine
Peter Flynn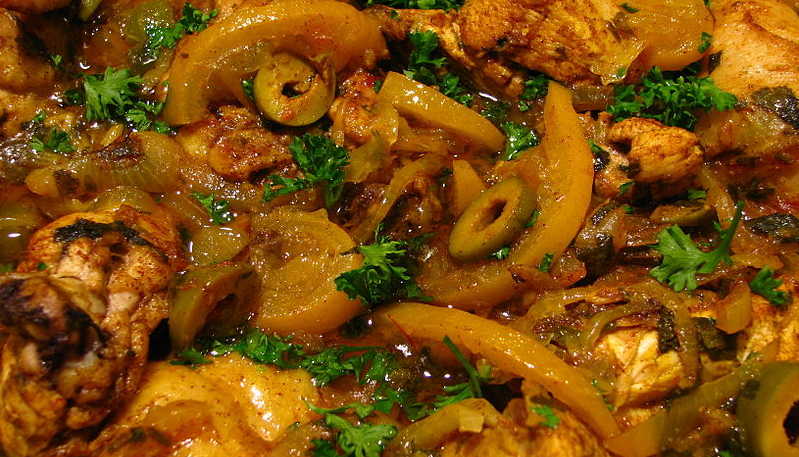 Like its companion Lamb Tagine 🔗 this is a composite, based on recipes from North Africa and French Provence. The mixture of breast and thigh meat seems to be specifically Algerian, so I'm using harissa. Couscous or rice go well with this.
Your support for our advertisers helps cover the cost of hosting, research, and maintenance of this site
---
Ingredients
2 tbsp harissa
2 small preserved lemons | one juiced, both quartered
2 tbsp honey
2 large chicken breasts | diced large
6 medium chickens thighs | skinned, bone left in
1 tbsp cumin
2 tbsp coriander seeds
1 tbsp white peppercorns
1 tbsp cinnamon powder
1 tsp ground turmeric
2 medium onions | finely chopped
4 cloves garlic | finely chopped
1 thumb ginger | finely chopped
1 red pepper | chopped or sliced
100 ml olive oil
1 large pinch saffron
handful of mixed stoned olives | halved
1 × 400 g can tomatoes
1 tsp salt
handful of dried apricots | halved
1 × 200 g can chickpeas
small handful of parsley | chopped
small handful of coriander | chopped
small handful of mint | chopped
---
Method
Mix the harissa with half the lemon juice and half the honey and combine well, then add the chicken breasts and chicken thighs and leave to marinade for an hour or more.

While that's doing, dry-fry the cumin, coriander seeds, and peppercorns for a couple of minutes, then grind to a powder and put into the bottom of a large cooking pot (or an actual tagine if you have one).

Add the cinnamon powder and turmeric and mix well.

Fry the onion, garlic, ginger, and pepper gently in about a quarter of the oil until softened (about five minutes), then lift out of the pan and mix with the spices, leaving the oil in the pan.

When the chicken is marinaded, add the rest of the oil to the pan and fry the chicken until it starts to colour.

Add the chicken to the pot with the lemons, saffron, olives, tomatoes, and salt and enough water to cover them, then put on the lid and cook in the oven at medium heat for about two hours.

Remove from oven and add the apricots and chickpeas. Add a little more water if it is looking dry. Put back in the oven for another hour.

Chop the parsley, coriander, and mint and add to the pot just before serving.
---
Your support for our advertisers helps cover the cost of hosting, research, and maintenance of this site