Paella with prawns and asparagus
Peter Flynn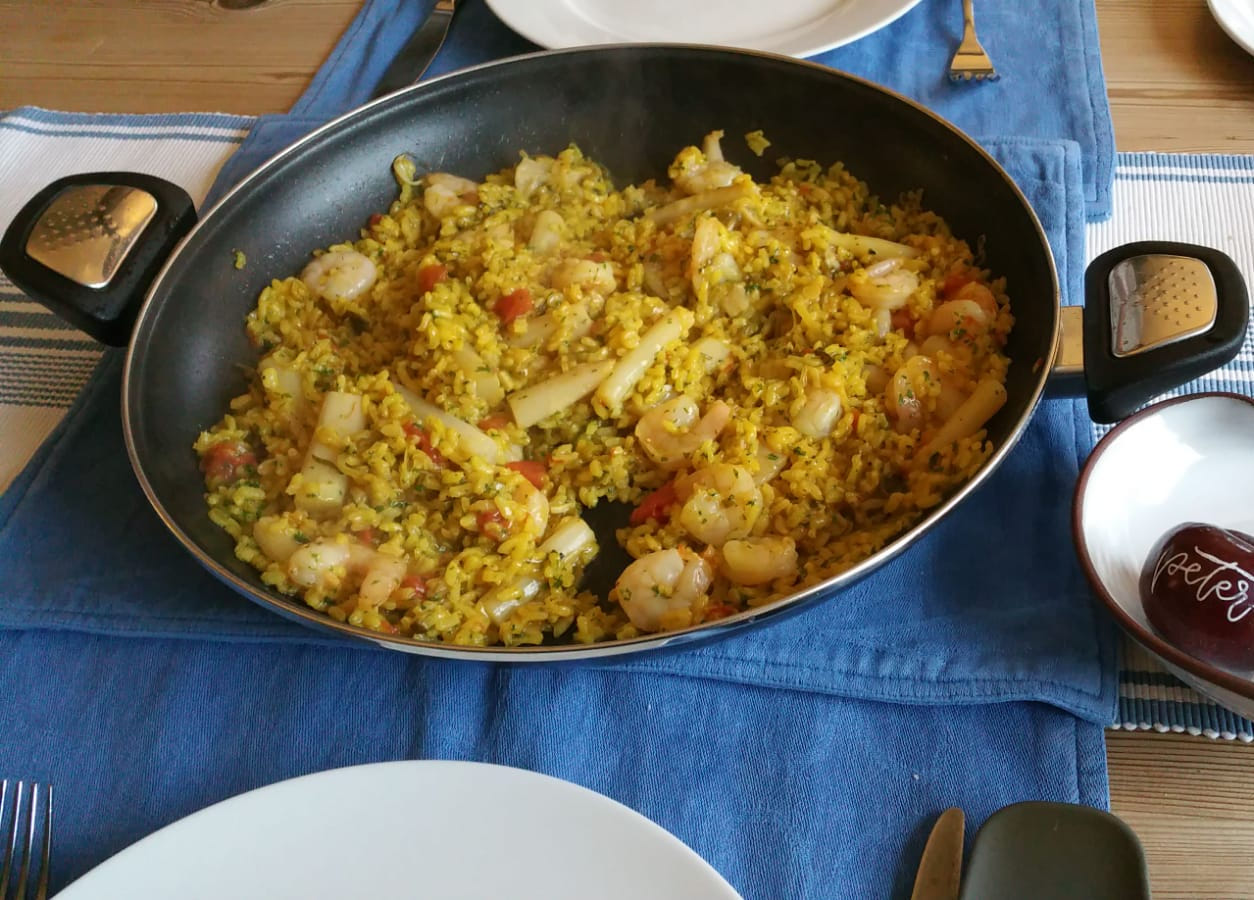 Having spent a week in Andalucia at our friends' daughter's wedding, and then visiting a relative; and having eaten all the prawns in the Mediterranean and Atlantic, and cleaned Sanlúcar out of Barbadillo, we had to have something to celebrate our return. You need a very large frying-pan or a two-handled paellera with a lid to do this.
Your support for our advertisers helps cover the cost of hosting, research, and maintenance of this site
---
Ingredients
Per person:
1 spring onion
1 small clove garlic
2 tbsp olive oil
50 ml white wine
80 g rice
150 ml stock
1 pinch saffron
½ tsp salt
½ tsp ground black pepper
¼ tsp powdered pimentón
6 large peeled prawns
4 spears asparagus [white or green]
1 tomato | flesh only
1 handful parsley | finely chopped
---
---
Method
Slice the onion and chop the garlic very fine.

Heat the oil in the pan, add the onion and garlic and fry gently for 10 mins to soften and start caramelising them.

Add the wine and turn up the heat to boil the mixture for another five minutes to evaporate the alcohol.

Turn off the heat and add the rice. Mix well and leave to absorb the oil for five minutes.

Meanwhile, complete the stock by adding the saffron, salt, pepper, and pimentón.

Add the stock to the pan and bring to the boil. Turn down the heat, cover and cook gently for 15 minutes. If you're using raw prawns and fresh asparagus, add them now.

Test to see if the rice is done. It should be soft but still slightly resistent. If the stock is all gone and it's still not done, add some water.

Add the tomato. If you're using pre-cooked prawns and tinned or bottled asparagus, add them now. Stir gently to mix, and bring back to boiling point (there should be no liquid left at this stage, so it will start to sizzle slightly when it's done).

Sprinkle with the parsley to serve.
---
Your support for our advertisers helps cover the cost of hosting, research, and maintenance of this site