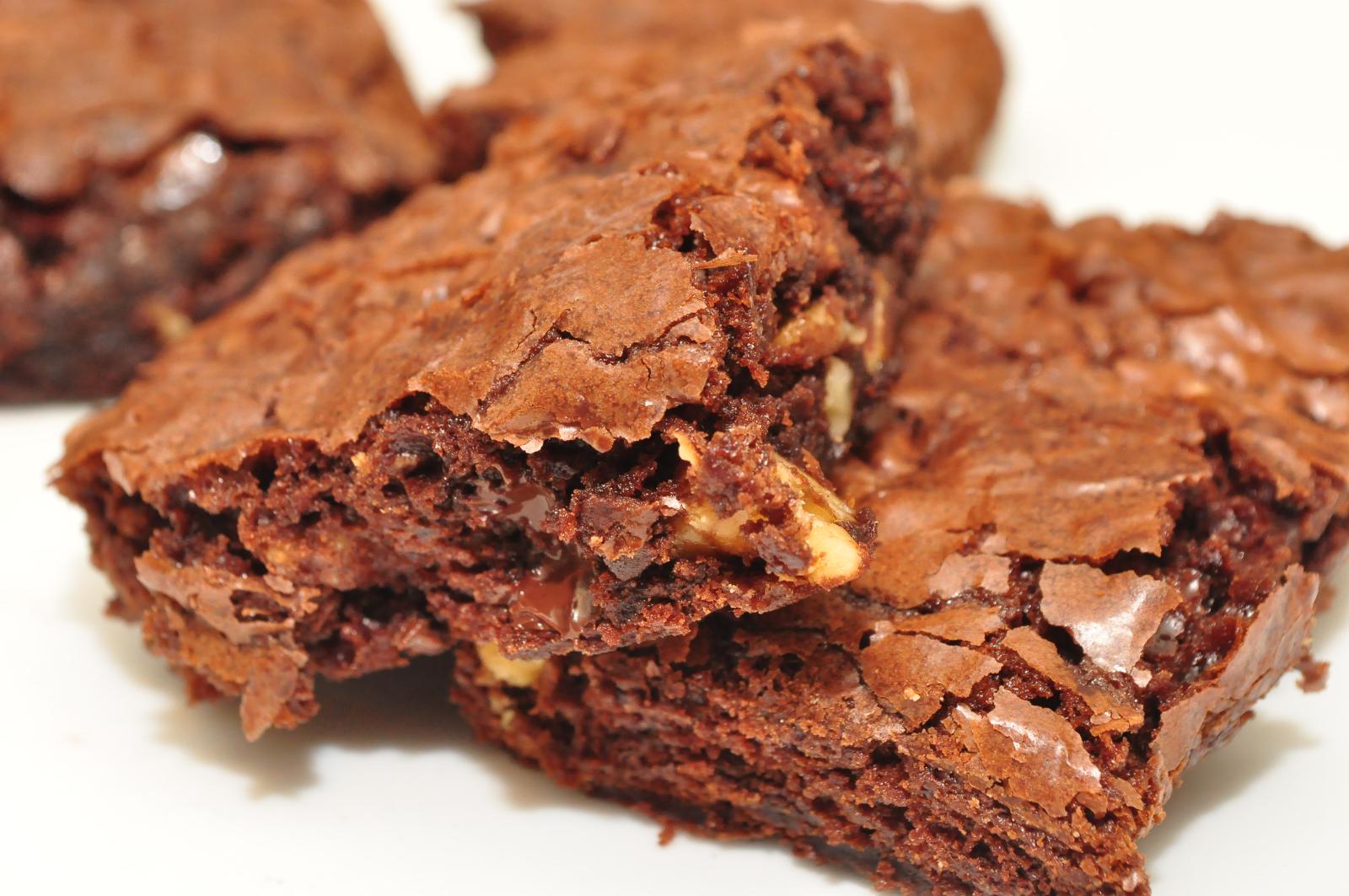 Another star recipe for seriously gooey brownies, originally from the 2011 America's Test Kitchen Cookbook (ASIN: B005C1H80W) but edited here to eschew obfustication.
Your support for our advertisers helps cover the cost of hosting, research, and maintenance of this site
---
Ingredients
⅓ cup cocoa
1½ tsp instant espresso powder
½ cup boiling water
2 oz unsweetened chocolate | chopped fine or grated
½ cup vegetable oil
4 tbsp unsalted butter | melted
2 medium eggs
2 egg yolks
2 tsp vanilla extract
2½ cups sugar
1¾ cups flour
¾ tsp salt
6 oz dark 60% chocolate | cut into ½ ″ pieces
---
Method
Line a baking pan with two strips of baking foil folded lengthwise, one placed at right-angles to the other, and both overhanging the ends and sides. This will give you something to lift the brownies out of the pan with after cooking. Spray the foil with vegetable oil.

Whisk the cocoa, espresso powder, and water in a large bowl together until smooth.

Add the unsweetened chocolate and whisk until the it is melted.

Whisk in the oil and butter (the mixture may look curdled but it will be OK).

Add the egg, egg yolks, and vanilla and continue to whisk until smooth and homogeneous.

Whisk in the sugar until fully incorporated.

Add the flour and salt and mix with a rubber spatula until combined.

Fold in the dark 60% chocolate pieces.

Scrape the batter into the prepared pan and bake until a toothpick inserted halfway between the edge and center comes out with just a few moist crumbs attached, about 35 minutes. Transfer the pan to a wire rack and let them cool in the pan for 1.5 hours.

Loosen the edges with a paring knife and lift the brownies from the pan using the foil overhangs as handles. Return the brownies to the wire rack and cool completely, about another 1 hour.
---
Serving
Cut into 2 inch squares and serve.

The brownies can be stored in an airtight container at room temperature for up to 4 days if you don't tell anyone else where you hid them.
---
Your support for our advertisers helps cover the cost of hosting, research, and maintenance of this site